5 reasons explained why should you invest in ceramic dinnerware sets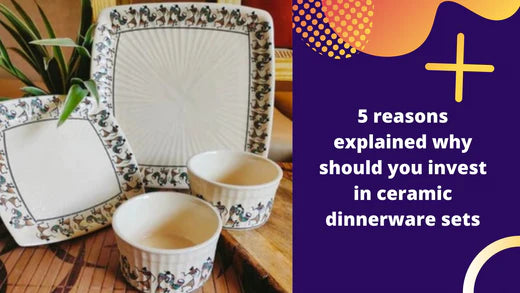 Serving food is an art and this art should get the best canvas. We invest hours and hours to cook food for our family and friends. Tasty food may seem dull and not-so-tasty if you serve that in a random manner. And that's why we are always careful about having the best kitchenware or dinnerware sets. When it comes to buying the best dinnerware set, the market offers a lot of options but a lot of people go for ceramic ones. Why? Nowadays most people buy ceramic dinnerware sets online for many reasons. In this way, they do not only save money but also ensure the best health benefits. If you are still clueless about why should you buy ceramic dinner sets, this blog will blow away all your doubts.
Why should one buy ceramic dinner sets?
Ceramic is durable
Dinner sets or kitchenware is something that we do not purchase every now and then. These things should be durable enough to run a long way. Even some ceramic sets run from one generation to the next generations. If you purchase plastic or fiber dinner sets, they won't last for a long. Even after two to three years, you may need to invest again. But ceramic dinnerware sets run really long and are able to deal with all kitchen hassles.
Keeps the food safe
Plastic kitchen sets that contain Teflon is not safe when you place hot food there. But there are no such health hazards with ceramic. Ceramic plates never cause any damage to the integrity of the food. Food will remain fresh for a long time.
Easy to clean
Ceramic plates and other kitchenware sets are really easy to clean. They are non-sticky. No matter how much gravy or oil is there, you can easily clean the plates using normal liquid dishwashing soap and water. A little scrubbing is enough to keep everything clean and purely hygienic.
Perfect for a watery environment
In a kitchen, water is everywhere. The kitchen area is wetter and has more moisture. You know that dinner plates and other kitchen sets come to water contact on a regular basis. If you buy a fragile set, the regular water contact and moisture will lead to breakage of them. But ceramic plates are really durable here. Ceramic sets are truly leak-proof and great for storing and serving hot foods.
Ceramic sets are cost-effective
Ceramic plates are available at different prices. You will get a lot of design and shape options also. Based on your requirements and budget, you can easily pick the best options. Apart from this, if you buy online, you can save more bucks by enabling offers and coupon codes. If you want to know where to Buy Ceramic Dinnerware Sets Online at the best prices, you must check Niyara at least once. This is the ultimate heaven to get the best ceramic dinnerware and other kitchen sets. From exclusive designs to jaw-dropping durability- you will enjoy all goodness of ceramic only at Niyara.